509J is seeking substitutes for both licensed and classified positions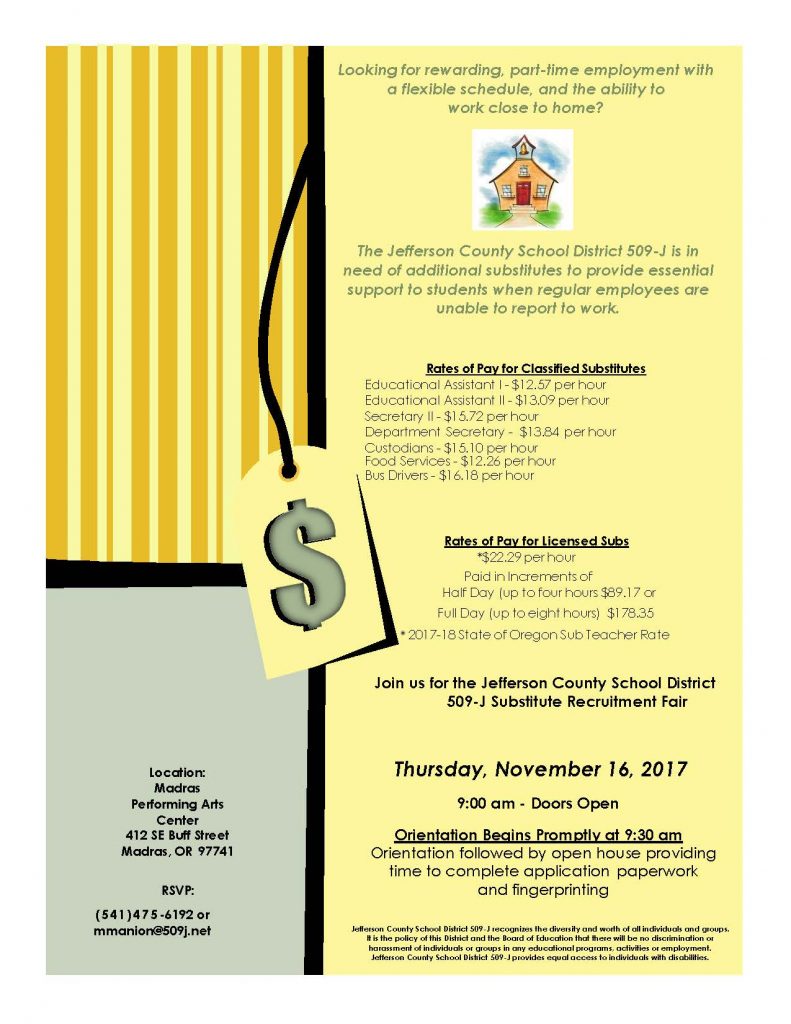 Jefferson County School District is holding an Open Registration for Substitutes at the Madras Performing Arts Center,  on Wednesday, November 16, 2017 at 9 am.   At this event, you will be able to complete your application, schedule mandatory fingerprinting, and attend an orientation session.
In order to complete your registration paperwork, please bring:
1. Employment Eligibility Verification Documentation
2. State Issued ID – This can be a current driver's license
3. Exact cash or check in the amount of $59.00. This fee covers the cost of processing your required fingerprinting and the criminal background check that will be conducted by the Oregon
Department of Education. There will be computers available to go online to schedule your fingerprinting; there is processing fee of $12.50 paid online at the time of scheduling. (Payment
by debit/credit card.)
The Oregon Teacher Standards and Practices Commission (TSPC) has implemented a Restricted Licensed Substitute License for applicants who hold a bachelor's degree, but have not completed an educator preparation program. Jefferson County School District sponsors applicants for this type of license for our District, so please inquire about the requirements if you would qualify.
Substituting can be a great option for those seeking part-time employment and the ability to have a flexible schedule. If you are interested in attending the open registration, please RSVP with Matt Manion mmanion@509j.net or call 541-475-6192 for more information.